Interpreting
Conference Interpreting/Simultaneous Interpreting
At international conferences, where more than one working language is usually used, it's common for these languages to be translated simultaneously. Each conference language that needs to be translated simultaneously requires the effort of two interpreters who alternate at intervals of between 20-30 minutes. The people attending the conference hear the translations over headphones.
One benefit of this type of interpreting is that, even when several languages come into play at once, virtually no time is lost. This technique ensures that the communication channels at international conferences are always open. Simultaneous interpreting is a highly demanding task that requires the utmost concentration and can only be performed by professionally trained interpreters.
Chuchotage or whisper interpreting
A derivation of simultaneous interpreting is chuchotage or whisper interpreting. As an alternative to the interpreting booth, a mobile personal PA transmitter may be used. Whisper interpreting also occurs simultaneously over headphones, for example during guided company visits, walkabouts, guided tours or at small-scale events.
In small surroundings, with one or two listeners in attendance, it is also possible to do whisper interpreting without using a personal PA transmitter. In this case, the interpreters sit right next to their listeners and whisper without the help of any technical aids.
Simultaneous film interpreting
Simultaneous interpreters work in teams and alternate every 20 to 30 minutes. That is not the case with film interpreting, a type of live dubbing where a single interpreter speaks all the roles throughout an entire film, men and women, young and old alike. In order to have time to breathe, rapid dialogue sequences are slightly abbreviated.
The text is normally available in the original version, either as a dialogue or a list of subtitles, which reveals virtually no context. Interpreters are thus well advised to view the film beforehand.
For the actual screening, interpreters need to be well prepared, ready to go the distance, and have a professional voice. Speakers should avoid the temptation to overdramatize, or read the text in an overly neutral or "dead-pan" manner.
An extensive background in film is just as valuable here as experience in writing and speaking radio and/or TV broadcast texts.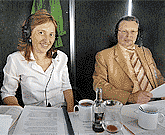 Simultaneous Interpreting
Simultaneous film interpreting